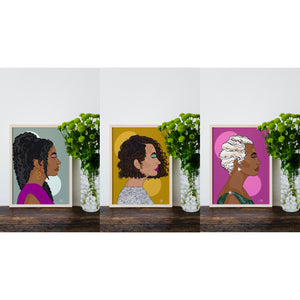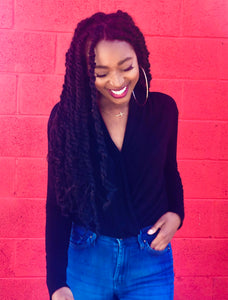 ABOUT JUSTINE
Hello, Lovelies! I'm Justine and I'm so happy you found your way to Winnie Weston. I am an illustrator and creative enthusiast located in the Alexandria, VA area. My passion for art started when I was a little girl and was further solidified when I was an arts student at a performing arts high school. Creating something special through simple lines and bold colors excited me and opened up my world. My parents made sure to surround me with Black creatives, to show me a world in which I wanted to live and create in.

My passion for art has now led me to here and now, which for me is a magical place. It's a place where I feel like I've come home to myself. A place where I've been able to combine my passion and my Bachelor's degree in Fashion Merchandising from VCU (Go Rams!), while also using my Master's degree in Strategic Communications from American University! A place where I want to share my God-given gifts with the world.
Clients include Adobe, Complex Networks, Ulta Beauty, Henry Masks, LiveTinted, Popsugar, Sunchips, My Black Is Beautiful (Procter & Gamble), Zenni Optical, First Aid Beauty, Dark & Lovely (L'Oreal).

Connect with me on Instagram at Winnie.Weston or via email at hello@winnieweston.com!
WHO IS WINNIE WESTON?
Winnie Weston is a special space that is dear to my heart. I started Winnie Weston at a time in my life when I felt like my least creative self. After many days and nights of questioning and doubting, my loved ones reminded me who I am. I am a Black creative who is passionate about creating art that illustrates the stories of Black women!
I created Winnie Weston in honor of my best friend and beloved Grandpa Carl Weston Winfield, also lovingly known as "Winnie" who passed away in January 2020. He was the best of the best with the kindest of kind heart. My Grandpa Winnie may not be here on earth, but I know for sure he's my angel with me every step of the way.
Winnie Weston is not only a celebration of my Grandpa Winnie, but my entire family. Y'all, I have the best family in the world! For me, Winnie Weston gives me the audacity to create a space that showcases the beauty and resilience of being Black, especially being a Black woman (this is a Black women stan account if you haven't noticed already, lol!) As Winnie Weston finds its way to your homes, I pray my art makes you feel beautiful, seen, empowered, and most importantly, loved. I'm happy to sprinkle and send a little light and magic to you all!